Appearing at The Jaundiced Eye, the Independent Bloggers' Alliance, and My Left Wing.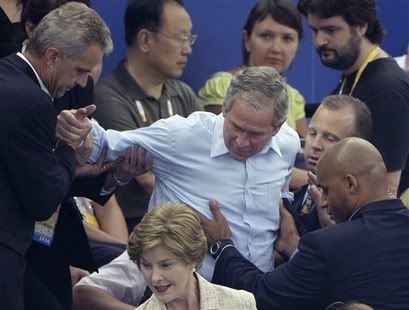 There has been a good deal of blogospheric chatter about the public antics of the leader of the free world, in full view of cameras, at the olympics. Much of it speculation about whether or not he's drunk off his ass.

The folks at BuzzFlash have been digging a little deeper into the trash heap, for a bit of the back-story. The tabloids have been dishing dirt about a potential split between George and Laura. Reason: his drinking.

If the Edwards scandal has taught us anything, it's that tabloids may traffic in sleaze, but their sleazy reporting is also often true.


Now, travel with us a little farther down the road on this one, because you only need look at Bush's inappropriate, juvenile, and just plain bizarre behavior during his Olympic trip to wonder if indeed he has been hitting the sauce again (of which there has been potential evidence in the past, including a bruised face and that strange pretzel and "near beer" choking incident, among others).

Now, I don't watch the olympics. I have better cures for the occasional insomnia. But, I've apparently been missing something of a show. Some of this seems a little undignified to me.





It certainly demonstrates a lack of presidential decorum, whether or not it proves drunkenness. But, for those of us who have long been concerned about having a dry drunk in office, it sends up something of a red flag.