cross-posted at skippy and a veritable cornucopia of other community blogs.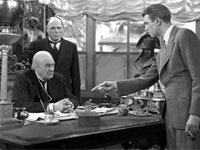 for those who thought runs on banks were a thing out of 30's movies, think again. the current sub-prime mortgage crisis didn't do countrywide's banking subsidiary any good last week. reuters:


withdrawal slips in hand, customers lined up at countrywide bank branches on friday to take back their money, as parent countrywide financial corp. tried to assure investors and depositors that it and its bank were stable.

countrywide bank issued a statement friday that liquidity issues affecting its parent did not affect federally insured deposits at countrywide bank.

countrywide bank said it has more than $107 billion of assets and 105 banking offices.

thursday, countrywide, the largest u.s. mortgage lender, said it drew down an entire $11.5 billion bank credit line as a credit shortage limited access to short-term cash.

by noon friday, more than 40 countrywide customers had been served or were waiting in line at the branch in a los angeles suburb, waiting upward of an hour and a half to withdraw money from their accounts.


the countrywide folks wanted to make it clear that the bank was solid, even if the mortgage firm had to borrow a bit of cash:


countrywide financial corp (cfc.n: quote, profile , research) provided further details on the $11.5 billion it drew down to improve its liquidity, a friday regulatory filing showed.

the calabasas, california-based company said about $660 million was borrowed under an agreement that matures nov. 16, 2007, $2.64 billion under an agreement that matures on may 7, 2008, and $60 million under an agreement that matures may 8, 2008.

it also said it borrowed $6.44 billion and $140 million under separate agreements that mature on may 10, 2011, and $1.54 billion under an agreement that matures nov. 17, 2011.


let's hope they didn't borrow it from countrywide!

of course, anyone will tell you that panic is what causes panic...that, and the fact that the gop ponzi scheme of the last two decades is starting to fall apart. asspress sez that the stop-gap bandaids the fed is trying will do no good:


the federal reserve swept into the market this past week to offer a calming hand, but that's still no panacea for the fundamental problems wall street faces.
big institutional investors from hedge funds to investment banks are still wrestling with credit problems spawned by distressed subprime mortgage loans. the housing market still looks gloomy. and the wave of takeovers that drove stocks to new highs this year has dropped off considerably.

the fed's discount-rate cut and injection of billions of dollars into the banking system alleviate only some of the stress. wall street observers say there is still plenty of risk and that the aftershocks from the failure of billions of dollars in subprime loans have yet to be felt.

"what the fed did was about consistent with putting a band-aid on a gunshot wound," said chris johnson, founder of cincinnati-based johnson research group. "you have a situation where the subprime concerns have spread, and there are still a lot of things going on in this market that are just wrong."

investors are really hankering for a more important interest-rate cut — in the federal funds rate — when policymakers meet next month. that would lower borrowing costs on everything from school loans to mortgages and help stimulate the economy. but there's a catch even with a fed funds cut — it would take months for the benefits to be felt.

investors must also take into account that it's the dead of august — not exactly a time of the year known for big market comebacks.


who cares about august? we've still got october coming up!