Cartoon of the Week

Monkey Law

Don't Say It




Every day liberal cartoonists are hard at work, doodling while avoiding their real jobs and responsibilities. Sometimes you see the results, and sometimes you don't. At Left 'Toon Lane we think a cartoon is worth a thousand words, and that sometimes the Bush Administration is so perfectly ironic that only a cartoon can capture the reality. This week seven different artists produced twelve different cartoons about today's politics. I hope you enjoy them, and that you'll come to Left 'Toon Lane, not just for the jokes, but for art and artists to punch up your own blogs and publications.

Rock Garden Comics

Sanctuary! Sanctuary!





Send in the Clones





The Cultural Revolution

System Error






Happiechappie and Surliegirlie

What If?




Eppie

Beds are Burning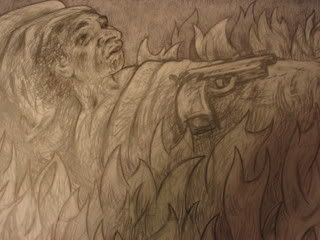 A Town Called Dobson

How Wal*Mart Went Bad





Mr. Bush, your party is jumping ship without you






Who will stand with Bush now?






No impeachment? Why not?






Dick Cheney: Servant or Master?






Hypnocrites

Me, I trust in seatbelts





Left 'Toon Lane is an informal group of unaffiliated lefty cartoonists looking for exposure and opportunity. If you see cartoons you want to add to your blog or your publication, please contact me. My contact info is at the Lane. If you want to request art to match a story, go to Left 'Toon Lane, find an artist whose style matches your needs, and contact them for special pieces. And if you are a cartoonist and want to join us, tell me here or contact me from the Lane. We are always looking for new talent to add to the group.

Look here every week for a weekly round up of Left 'Toon Lane, and go there to see what's new.