AAPP Says: Lou Dobbs says the U.S public school system is failing this generation of students. Lou Dobbs at CNN is becoming more of an advocate for black and latino children than the NAACP, Congressional Black Fox Caucus, and Urban league combined. Why do I say this? Because the NAACP, Urban League, CBFC, have been, more or less quite on the issue of education and black folks. Yes, they publish Annual Reports on the condition of Black America, but that's as far is they really go. Candidly I would like to see these troups begin the advocate like they did under the old school leadership of the 1950's, 60's and 70's. Where are African American Education, Political, Faith, and Social Leaders?
Where is the President? - Stupid question.
I watch Lou Dobbs regularly and find him an amazing man when addressing America's problems. Today I have to give him a big HatTip for his most recent article, A legacy in search of a president. Here is some of what Lou Dobbs has to say: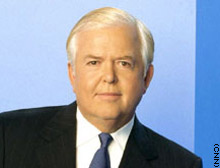 "America's once-proud public school system — the great equalizer of our democratic society — is failing an entire generation of students. Millions of high-school students are donning their caps and gowns this month, but a new Education Week report reveals that more than 1.2 million students will fail to graduate high school this year. Half of our black and Hispanic male students are dropping out of public high schools.
Nowhere is the news for our young people worse than in Detroit, Michigan. Detroit's economy has been devastated by so-called free trade policies and awful management decisions. Tens of thousands of jobs are disappearing, and too many mothers and fathers have never attended a parent-teacher conference. Detroit's community is in pain, and the city's future is uncertain. And despite the best efforts of local and state leaders, hope is in short supply.
The Education Week report shows Detroit's public high schools will graduate only 25 percent of their students. Cleveland, Ohio, and Baltimore, Maryland, will graduate less than 35 percent; Dallas, Texas, New York and Los Angeles, California, about 45 percent. In fact, 10 of our nation's biggest cities will graduate fewer than half their students. This is nothing less than a national crisis.
Christopher Swanson, director of the Editorial Projects in Education Research Center and supervisor of that national dropout rate report says: "I think that really speaks to the challenge of getting students to graduate from high school at a time where it's more important than it's ever been…to provide opportunities for our young people to have a successful career and for the United States in general to be competitive in the world."
The Alliance for Excellent Education estimates that each high school dropout earns about $260,000 less than a high school graduate over his or her lifetime. The Alliance also reports that dropouts not only earn less money but also drain state and federal budgets through their dependence on social and welfare programs. Those students who drop out make up nearly half the heads of households on welfare, and they constitute almost half of our prison population as well. The cost to our society is overwhelming." More Here
Fast forward to Washington, DC - Check out how DC Public schools are doing in Washington, DC. They get a D - by all accouts. The black Mayor just appointed a new school Supt. with no experience running a major school system, infact, she has never run any school system. She has never run any school operations at any level. Her only true work experience in public education was teaching in Baltimore schools for two or three years - go fiqure. As reported by WaPo, Mayor Fenty had been under fire for the racial composition of his Cabinet. Since becoming mayor he has been criticized for not appointing enough blacks to prominent positions in the predominantly black city, especially after he named Cathy L. Lanier, who is white, as police chief and Michelle A. Rhee, who is Asian American, as The new School Chancellor.
Now there is a political fight brewing, D.C. Council Chairman Vincent C. Gray has asked Mayor Adrian M. Fenty for a detailed description of the selection process for Michelle A. Rhee as the new schools chancellor, saying he wanted to determine whether Fenty had followed the law. In a letter dated Wednesday, a day after Fenty (D) announced Rhee as his pick, Gray (D) noted that the takeover legislation called for a panel of teachers, parents and students to review résumés. Gray questioned whether the group was genuinely involved in Rhee's candidacy. i guess thisis what happen when we have a green (oops) Mayor. At least he , (the Mayor) has taken some Corrective Action: In recent days the Mayor has appointed six new cabinet nominees, 5 are black; 1 is white. He may have an uphill battle getting Ms Rhee confirmed. check out the bogus procedures he used around stakeholder involvement.

Let's see how his new Wonder Woman plays out.
'Scare Tactics' From Fenty's Team?

Narrated Photos: In the Trenches
Across the city, dedicated teachers and principals work every day to guide their students through a school system beset by challenges. Here are two stories from D.C.'s elementary schools.
A Timeline of D.C. School Reforms
The Scorecard: Interactive Database